Jennifer Riria is a successful businesswoman who also works in banking and the corporate world. She serves as the Chief Executive Officer of Kenya Women Holding Firm, which is a group that is involved in microfinance, banking, and insurance. Additionally, Jennifer was chosen as the Ernst & Young Entrepreneur of the Year on two separate occasions (East Africa and Kenya respectively in 2013 and 2014).
Background Information on Jennifer Riria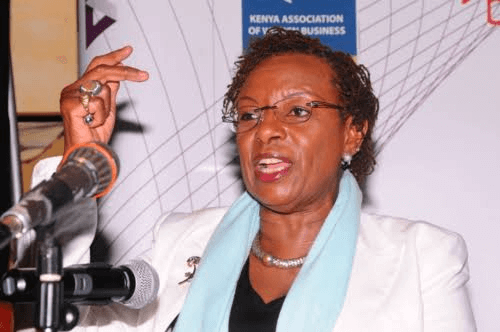 Riria was born into a family of limited means in the countryside of Kenya. The fourth child out of a total of ten siblings. According to what she claims, "I observed other women in the village, including my mother, work as donkeys." They would lug around a bundle of firewood, some bananas, a bag of other items, and a baby on their backs. I witnessed people being mistreated, being beaten, and working nonstop. In her words. "I can still recall praying to God on my knees by the side of my bed every night, pleading for him to take me far away from this setting." Her surroundings encouraged her to accomplish something significant with her life. The choice that she made to utilize school as a means of evasion has had a significant impact on the course of her life.
Jennifer went to a local elementary school, which is also the location of her daily commute. The distance between the house and the school was around 4 kilometers.
She was extremely fortunate in that she was accepted into Precious Blood High School, which is a boarding school for only female students. The school can be found in Nairobi, which is both the capital and the largest city in Kenya. Riria discovered she was pregnant right when she was graduating from high school.
After putting her children to bed, she went straight to the University of Dar es Salaam to begin her scholarship there. There, she earned a Bachelor of Arts degree in Education and went on to graduate with honors. After that, she attended the University of Leeds in Leeds, which is located in the United Kingdom, to earn a Master of Arts degree in Educational Administration.
In addition, Jennifer possesses a Doctor of Philosophy degree from Kenyatta University in the field of Women's Education and Development. She is a mother of three, and she also has six grandchildren from her previous marriage.
Profession of Jennifer Rira
At the beginning of her career, Dr. Riria worked as a professor at Kabete Technical Institute. After spending half a year at the institute, she moved on to State House Girls High School, where she worked as a teacher for the remaining half of her career. In 1979, Jennifer relocated back to her birthplace of Kenya in order to pursue her doctoral studies at Kenyatta University. She taught at Kenyatta University for ten years prior to devoting her full time and energy to women's rights advocacy and empowerment.
In 1991, she became a member of the Kenya Women Financetrust (KWFT). The Kansas Women's Financial Trust (KWFT) is a microfinance financial institution that was created in 1982 with the purpose of catering to the financial requirements of women. Before Jennifer joined the organization, KWFT was in poor form overall, severely lacking in staff, and was experiencing financial losses. As a result, Riria was required to play a number of tasks in order to assure the continued growth and development of the organization.
Her unrelenting efforts and dogged persistence were ultimately successful. An organization that was thought to be extinct has been resurrected as a successful example of a microfinance organization. It currently serves 900,000 women by providing them with financial services such as loans, savings accounts, and insurance. At the moment, services are being provided by the institution across all 45 counties in Kenya.
After that, in 2010, the organization was divided into two separate entities known respectively as Kenya Women Microfinance Bank and Kenya Women Holding Limited. After that, in 2018, the holding company subsequently changed its name to Echo Network Africa Limited. At the moment, Jennifer Riria serves as the Chief Executive Officer of the holding company.
Leadership Provided by Jennifer Riria
Riria possesses the heart of a great leader. The TUVUKE Initiative is under her leadership. This project promotes a democratic process that is both peaceful and open to all candidates in Kenya. She was responsible for coordinating 17 different civic groups and delivering a peace pact in 2013 as part of the TUVUKE Initiative. Nevertheless, she stresses the fact that she does not belong to any political party and instead pushes for engagement on the part of all citizens in democratic processes.
Lessons in Entrepreneurship to Be Learned From the Life of Jennifer Riria
Believe in Yourself
Jennifer was obviously starting off at a significant disadvantage given her family's financial situation. On the other hand, she made the choice to develop into something that neither of her parents was. There is an old proverb that goes as follows: when you are young, you look like your parents; but, when you begin to mature, you start to look like your choices.
In a similar line, one needs a significant amount of belief in order to launch a new firm. You have to have faith in yourself and have confidence that you can successfully run your company. Simply put, the thought of achievement comes first.
Adopt a Growth Mindset in Your Approach
When Jennifer first started working at KWFT, the company was in a terrible state. But she didn't let that stop her from continuing forward. Instead, she took on other responsibilities to make sure the organization was able to carry out its mission.
In a similar vein, if you are just starting out in business, it's possible that you won't immediately have access to all of the resources that are necessary to expand your company. However, if you have a growth attitude, you will be able to begin on a smaller scale and expand over time.
Determine Your Own Pace
In a normal situation, everyone would have assumed that Jennifer's family tree couldn't possibly produce anything positive. But Riria showed them that they were wrong. She helped the people in her community realize that the things you create of life are a direct result of who you are, not the environment in which you find yourself. She has not only done that, but she has also demonstrated a really positive example for others to follow.
People may shy away from certain types of enterprises if they are entrepreneurs because they are unfamiliar with them. You have to accept, however, that taking risks is an inherent component of running a business. You have the option of deciding to lead the way in that Industry while others follow in your footsteps.