Engineer, entrepreneur, and investor Isabel dos Santos hails from Angola. She owns assets and shares in various enterprises across Angola, Portugal, and Europe, making her the richest woman in Africa and the first female US$1 billionaire in Africa.
Isabel launched her first company, Miami Beach, in Luanda, Angola, when she was 24 years old. After that, she invested in Angolan and Portuguese enterprises and started her own telecommunications firms (Unitel and Zap). By Forbes's measure, she was Africa's richest woman in 2013.
Early Life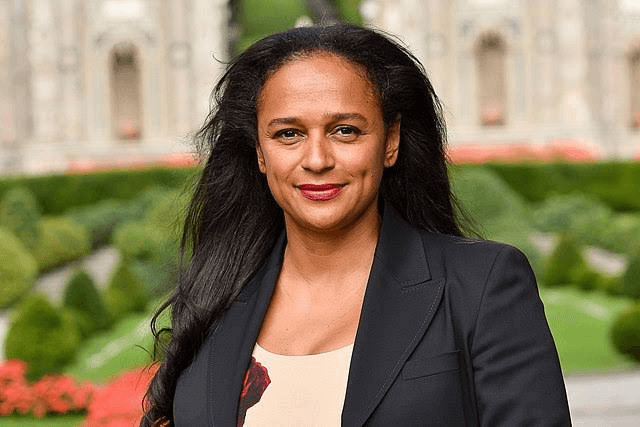 After her parents met in Baku, Azerbaijan, Soviet Socialist Republic SSR, Isabel dos Santos was born there in April 1973. Former Angolan President Jose Eduardo dos Santos' eldest child is a chess champion named Tatiana. Her father commanded Angola as president from 1979 until 2017, making him the continent's second-longest serving leader.
She relocated to London with her mother after her parents divorced, where she completed her secondary education at Cobham Hall and her A-levels at St. Paul's Girls' School. She subsequently earned an Electrical Engineering degree from King's College in London. After finishing college, she found work at what is now PwC but was then known as Coopers & Lybrand.
Life Outside of Work
Isabel is wed to the art collector and businessman Sindika Dokola of the Congo. Sindika is the son of a wealthy Kinshasa family and has amassed the world's largest collection of African art. They were acquainted at London's prestigious King's College.
They tied the knot in Luanda back in 2002, and their partnership is now enriched by three children. She is able to communicate effectively in English, French, Italian, Portuguese, Russian, and Spanish.
In the 1990s, when the civil war in Angola was all but done, Dos Santos relocated back to the country from London. She moved to Luanda to be with her dad, and she's now the Project Manager Engineer for a recycling and waste management plant run by the German company Rodiek and the Angolan company Jembas. Miami Beach, one of the clubs and beach restaurants on the Luanda Island in Angola, was her first business, opened in 1997.
She then established a tower relay system and walkie-talkie distribution for the beverage industry. Additionally, in 2001, she made an investment in Unitel, the largest mobile phone operator in Angola, which led to the introduction of international call services and 4G Internet access to the country.
In addition, she established the Candando retail network in Angola in 2015, which includes both hypermarkets and shopping complexes. She also has investments in the cement, diamond, oil, telecommunications, banking, supermarket chain, and brewing industries in Angola, Africa, and the rest of the world.
The Value of Investments and Stockholdings
Isabel dos Santos holds stock in a number of different businesses. Other companies in which she has a stake include Unitel, Bianco BIC, ZON Multimedia, Bianco BPI, Nova Cimangola 16, Santoro Finance, Trans Africa Investment Services, Esperaza, Condis, Eurobic, Efacec, Galp Energia, and a host of others.
However, in both Angola and Portugal, there have been accusations made against her. Two nations have suspended her account due to allegations of embezzlement and money laundering.
Isabel has maintained that the charges are deceptive and false. She claims that this is a carefully planned and executed political assault. I have retained legal counsel to pursue legal action in response to false and defamatory statements made against me.
Substitute Roles
Isabel worked as a manager for multiple publicly traded European corporations for over 20 years. The Angolan state oil company Sonangol, for example, chose her as its chairwoman in 2016. But upon taking office in 2017, Angola's new president, Joo Lourenço, had her removed.
Lessons from Isabel Dos Santos's Life
Santos conducted some foresight work after she founded Unitel and Zap, examining the state of the world in twenty or thirty years. Though mobile phone firms are growing, she realized that this was not sufficient. And soon, fintech, content, and a number of digital training platforms will have a place in the world beyond smartphones.
She did this by putting her money into banks like Banco BIC, a grocery chain, Candando, and other platforms she thinks will be around in the years to come. The success of these investments allowed her to become the wealthiest lady in Africa.
Everyone, but entrepreneurs especially, needs to be focused on the future. In order to ensure that your product or service will be relevant in the years to come, you need to think forward. In what ways do you see them being useful in the coming decade?
From an early age, Isabel had an interest in entrepreneurship. She admitted, "I've got business intelligence since I was very little." I started out selling chicken eggs when I was six years old. She started early since she knew what she wanted to do.
The majority of her observations and ideas from Angola were put into action upon her return home. To her dismay, state investment was at an all-time high, leaving little room for the private sector to grow.
She was less interested in a career in politics and more interested in fostering economic growth as a business leader. So, at the ripe old age of 24, with plenty of work experience under her belt, she launched her own company.
Isabel dos Santos provided several pin-points when discussing the factors that have contributed to her achievement to this point.
Get started by putting your current skills, connections, and expertise to good use. You will have a leg up on the competition if you choose a career path in which you already have some knowledge or experience.
You should also be aware of your limitations and the areas in which you excel. If you have the drive to succeed along with the knowledge and abilities necessary, your goals will be met.