Jollftips.com is  a  football prediction website that needs no introduction. Over the years,Jollof tips has been providing users with a wide range of accurate prediction you can always rely on.Jollof tips cover football leagues such as English Premier League, Italian Serie A, Spanish La Liga, German Bundesliga, French Ligue one and many more.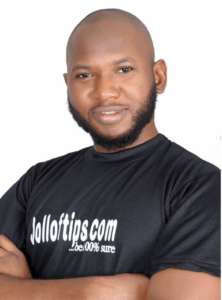 We Caught up with the founder of Jollof tips at his office in Lagos where he opened up about the website, how they get their accurate prediction, and everything in between.
Q. Who are you?
My name is ThankGod Egesimba. I'm the founder of jolloftips.com, a subscription-based football betting advisory start-up. Our journey started in 2016 when my co-founders and I (who are all football enthusiasts) saw the massive growth in the sport betting industry as online betting became an acceptable form of entertaining and social activity amongst tech-savvy, professional and discerning populace but laden with the anguish for lack of wins called 'torn tickets' in Nigeria's local parlance.
As Engineers and Economist, we understood to a high-level degree how statistics and data could be used in forecasting events and if properly implemented into sport-betting, will bring about a level playing field where bettors can consistently make profits on their investment in sports betting by making it risk-free. So, we got together and jolloftips.com as a start-up was founded on a beta phase.
For the first 6 months of operation, we were giving away free tips to test our product and ensure it is market-fit with 1673 signups at the end of the period. Increasing subscribers base, consistent win-rate percentage and market-fit service delivery due to ease of product use saw our operations growing, and in the following year, we formally launched out and Jolloftips Limited was formed for better organizational management purposes. Today, we have actually amassed 2467 paying subscribers.
Prior to our emergence, most bettors had to take their chances with people parading themselves as "fixed match" agents. More often than not, these agents just take money from unsuspecting people and give them little to no value in return. They rarely had any solid presence anywhere save for social media accounts. Once these accounts have been flagged for being fake, they close it and open up a new one under a different name.
Q. What is jolloftips main goal?
jolloftips.com aims to increase the incidence of each bettor returning profits from its investment in football betting. To us, our ideal situation is where the players stand a fair chance to actually win consistently and not just creating an illusion of such a possibility. Also, we aim to provide our customers with seamless and exceptional service, and innovative product offerings.
We are currently in talks with Big Data companies in developing an AI (Artificial Intelligence) program that can predict outcomes of future sporting events as accurately as possible with little to no human input. This will go a long way in serving our users and would remove a lot of human limitations like biases and mistakes associated with misinterpreting data.
Q. Tell me about jolloftips value-add
We see bettors as investors and not people trying a "Get rich quick scheme", and we treat them as such. We educate them on how to be intelligent with their investment or 'stakes' and also prudent with their earnings and future stakes, especially during a winning run. We have developed materials to aid their rationality and future betting behaviors. They can consult these materials and in little to no time, they can become good predictors of the games too.
A lot of other similar businesses have sprung up so far, not without a greater percentage of them promising outrageous winning schemes bordering on scams. We have differentiated ourselves from the pack by prioritizing customer service, which is one of the most important things in the betting world, making us remain several steps ahead of them. While we agree that passionate football fans are free to entertain themselves using betting as an outlet, we also believe they should be able to create additional income from their passion, and jolloftips.com is here to guide them.
Q. What is jolloftips reach/market
jolloftips.com has a global reach that has subscribers from 40 countries worldwide. We currently monitor 55 football leagues around the world, and plans are underway to increase that to 75 leagues while branching into other popular sports. Presently, 2467 subscribers purchased our subscription with 23% returning to purchase more subscription. We have 36,231 signups. If you understand our market, you will see these are very solid statistics.
Also, our best subscribers' location in terms of joining jolloftips.com is Nigeria, followed by Kenya. When we initially launched, our primary targets were both of them. We got into these markets but I was surprised the very first day someone from Iran subscribed to our services. Since then, we have been getting people from Turkey, Canada, the UK, Brazil, Malaysia, Thailand, Italy, Spain, Germany, other African countries, etc. So, it is only fair to say that we serve people from all over the world.
Q. Who are your subscribers?
Our subscribers are savvy and professional people that placed bets on football events and our interactions with them so far places them all above the age of 18. Due to our current delivery model, these subscribers are currently limited to those that have access to our website via the internet.
Q. What does jolloftips use in determining their predictions
We look at various statistics associated with a football match event like teams, leagues, player forms, injury status, team history, coach history/success rate, player availability, a period of the season, player ability, head to head, etc. All these will be analyzed using a proprietary system to determine the most likely outcome of every given football game in the leagues we cover. This data will be synthesized in a shareable and easy-to-use format then distributed to our subscribers on a daily basis.
Q. How accurate are these predictions.
The accuracy question is a delicate one. To answer this correctly we should bear in mind two important scenarios when it comes to sport betting tips and they are:
People who bet as advised;
People who include your bet tips with other tips they may have procured elsewhere.
Our rate of return is always showcased in our 'proof of performance' highlights via our social media handles and our accuracy return rate band has been 81.4 – 93% for those in category a), being those that use our tips as we advised.
Q. What is jolloftips doing differently
We see our subscribers as our partners and we understand that as long as they continue winning, we shall remain in business. That in mind, we not only advance them betting tips but also provide resources to enable them to understand their investment into sports betting. That is to say, we simply don't give our users fish, but we also teach them how to fish. Our aim is to make each bettor an educated one so they can confidently wager backed by knowledge instead of 'luck'.
We also have placed a priority on customer service in a very competitive industry, with well trained and professional staff providing our customers with an extensive and enjoyable betting experience on the sport of their choosing. We are open 24/7 every day to offer the accessibility to consult helpful individuals when there are any issues with subscription, ensuring our subscribers are not denied any opportunity to make that extra income.
In addition, our website has the FAQ page, which usually has the answers to any question that you could possibly have, which all put together, give our subscribers peace of mind, knowing that they are not scammed and they are conducting business with a reputable company with an ambition to become one of the biggest gaming groups in the country.