Kudi Money is redefining the idea of bank and assisting income earners to save, spend and borrow money.   And it is living up to its slogan: "the bank that pays you to bank." With the use of technology Kudi hopes to make banking better and easier.  As well as to create a banking experience without boundaries. So, one of its missions is to help people live a healthier financial life. Therefore, it is offering returns and rewards for people to save, and allowing customers secure the best possible loans with low interests.
How Kudi Money Began?
Kudi Money commenced operations in October 2016. Babs Ogundeyi is the founder of Kudi money with over 15 years experience in finance, banking and technology.  Before Kudi money came into existence, Mr. Babs worked with PricewaterhouseCoopers (PWC) juggling between England and Lagos. He advised banks while working with PricewaterhouseCoopers. Afterwards, he switched roles and worked as the Senior Special  Assistant to Oyo State governor on finance from 2011 to 2015. Perhaps, one of the problems Mr.Babs was able to identify while working with the bank was issue of  high and unnecessary charges Nigerian banks place on saving accounts and huge interests on loans. However, when Kudi money kick started its sole aim was to provide bank customers with good interest on their savings and to bridge the gap of loan servicing.
What Kudi Money does?
Kudi money is a full service digital only bank whose current focus is help customers save, spend and borrow money within favorable conditions.  Spending is an inevitable concept, even though there are different spending patterns which depend on the ability of the spenders to properly manage money. An average range of between 21 and 38 years old earn a decent wage, but spend whatever they earn within the first half of the month and struggle through the end of the month. Saving has not been encouraged by the traditional banks too, with all the overinflated charges; there is distrust towards banks which had made banking rather expensive and unattractive. And this what Kudi Money does: helping you save conveniently towards the things you want. With no fee interest earning current account, higher than the average interest paid on savings and low interest loans.
What services does Kudi Money offer?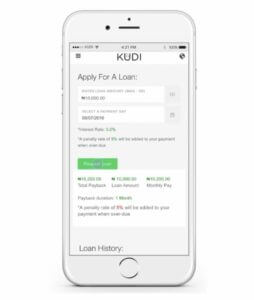 Kudi Bank:
Similarly, Kudi Bank is just like the conventional traditional savings and current account. The only difference is that you get to earn daily interest at a 3% per annum on your spending account. Plus, there is no minimum balance requirement, as many withdrawals can be made.  When you deposit money on your normal bank account, you get instant credit in your Kudi money account. You are credited whenever you use your card at any POS. It has features for one to be able  control their ATM card completely from a device, and block the card temporarily in case of security threat. The spend and save account allows you to spend 1 naira, and earn 10 kobo into your special account.
Kudi Save:
With Kudi Save, you can earn up to 10% interest when you automatically save daily, weekly or monthly.  That's twice as much interest than what traditional banks offer. All you have to do is link your bank account or ATM/ debit card you would like to save money from, and automatically your Kudi Save account will save money for you on a periodic date.  
There are two saving accounts Kudi offers; goals account and instant save. Goals accounts allow users to automatically save on a periodic basis, while Instant save account offers a significantly higher interest than traditional banks.
Kudi Loan:  
Unfortunately, unexpected expenses such as health or an increased utility fee sometimes arise. So, with Kudi Loan, you can get cash when you need it at a low interest. Kudi Loans ensures that its users have access to uncollateralized loans within an hour.  
Creditworthy borrowers can apply for a fixed rate loan of about 1,000,000 and repay over a twelve month period. Kudi loan is a hassle free loan alternative to bridge the gap in loan servicing created by traditional banks.