Innoson Motors is a Nigerian company that manufactures and distributes motor vehicles. The company's product range includes pickup trucks, SUVs, buses, and cars and vans.
Who is the CEO of Innoson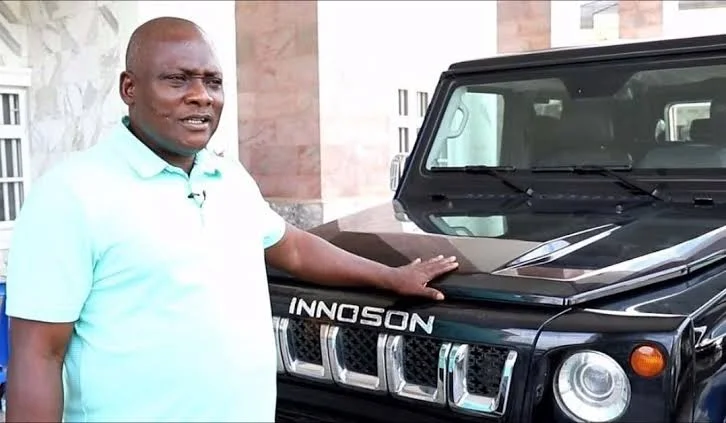 Innocent Ifediaso Chukwuma is the CEO of I was born on the 1st of October, 1961 into the family of Chukwuma from Uru-Umdim, Nnewi in Anambra State. His father, whose name was Chukwuma Mojekwu, worked as a civil servant. Martina Chukwuma, his mother, was a full housewife.
Innocent Ifediaso Chukwuma has 5 siblings, three other boys, and two girls, and is the last of the 6 children.  His primary and secondary school were at his hometown in Nnewi. After his secondary school education in 1978, Innocent had high hopes of being an engineer. Working in line with this vision, he applied at the university to study engineering but unfortunately couldn't get in due to his inability to meet the cut-off mark.
Solving The Problem
Innocent Chukwuma sort ways to cut down the cost of imported new motorcycles so Nigerians can afford new motorcycles. This he did by importing the motorcycles disassembled so more motorcycles can fit into the container and getting them assembled here in Nigeria.
With this new idea, he was able to import 200 units of motorcycle in the same 40ft container and reassembled them upon their arrival in Nigeria. This gave him the edge to sell cheaper than his competitors at the rate of N60,000 to 80,000 instead of N150,000.
The skillful entrepreneur, Innocent Chukwuma was the first person that introduced Jingcheng brand of motorcycle into Nigeria.
This was how Innocent Chukwuma's company started assembling branded motorcycles just like the Leventis and Boulos Enterprises. Today, the company is one of the major importers, suppliers, and assemblers of motorcycles and motorcycle parts in Nigeria and West Africa as a whole.
Awards
Innoson CEO, Innocent Chukwuma was awarded an honorary Doctorate in Business Administration by the Enugu State University of Science and technology. He is a member of the Order of the Federal Republic (OFR) and has been named entrepreneur of the year many times by several bodies.
Net Worth
The current estimated net worth of Innocent Chukwuma is $1.5 billion (₦540,000,000,000). This net worth is not confirmed though, as Forbes has not listed him in their list of billionaires.