GTBank is one of the top leading banks in the country with a huge customer base. Sometimes it could be stressful visiting physical branches to do transactions. You will find out that the banking hall might be crowded sometimes which leaves you with the option of using their mobile App for your transactions. GTBank Mobile App will enable you to;
Check your account balance.
Transfer fund to both GT Bank and other banks
Pay your bills like; electricity bill, cable TV subscription etc.
Request for statement of account.
Buy data and airtime (self and third party)
Book hotel and flight ticket etc.
These are the things that you can use your GTBank mobile App to do. There are still other things that you can do with there App when you check it out.
HOW TO DOWNLOAD GTBANK MOBILE APP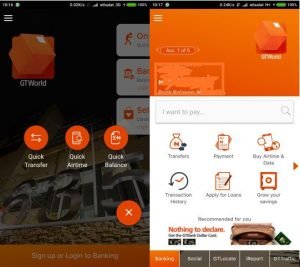 GTbank has two mobile Apps in the play store. The old App which serves as a mobile wallet and the new App known as the GTWorld. But in this article, we will be talking about the GTWorld mobile App which is better and easier to use. The new GTBank mobile App has all the features that are in the old mobile App.
What is GTWorld Mobile App?
GTWorld is a new and improved Mobile Banking App from GTBank that is designed to make mobile banking easier and seamless. Compared to the old GTBank Mobile App, it is loaded with features such as facial recognition, Forex transactions etc. Below are the key features of GTWorld Mobile app.
GTWorld App Features
Ability to Login and complete your transactions using your face, fingerprint or a 4-digit PIN.
You can easily check your account balance; transfer money within your accounts and buy airtime; all without having to sign in.
Turn your contacts into a beneficiary list; send money to someone using just their mobile number.
You can apply for loans and set savings target right from your phone.
Send your Account Statements to your email or to an embassy of your choice.
You can Set up a new account and view your account balance(s).
You can view transaction history and search transactions
You can carry out Fx Transfers to all Banks
With GTWorld app, it is easy to confirm and manage your cheques.
You can pay for Bills on a GTworld app
Transfer money to GTBank accounts and all other banks.
Buy airtime and data for self and third party.
Schedule and manage standing orders
With GTWorld App, you can locate GTBank ATMs and branches near you
You can easily Block your lost or stolen card
You can request a new Card on GTWorld app
GTWorld app also offers the best deals on the SME Markethub
How To Register GTBank Mobile App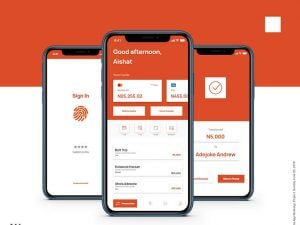 This App is available for Android and IOS users. The App can be downloaded from the Apple store and google play store. The means of downloading the App is the same as the old App
Visit playstore or the Apple store to download the App
Then, launch the App and input your User ID and password.
If you do not have a password just dial *737*6*5# from your registered mobile phone for your login details. And if you have forgotten your password, please click "Forgot Password?" on the login page to reset your password.
At first login, you will be asked to authorize your mobile device to access the app. If this is your preferred device, please select 'Yes' and choose if you would like to create a 4-digit PIN for your banking transactions.
If you choose to create a 4-digit PIN, you will be required to agree with the Terms of Use. A 6-digit secure code will be sent to your registered email address to verify your device. If you do not receive this message, you can generate a code from your hardware token or dial *737*7# from your registered phone number to obtain a one-time verification code. You can also call GTConnect on ‪08039003900 or ‪08029002900 for the verification code. Enter the code in the app and your mobile phone will be successfully verified.
Alternatively, you can as well use a token to verify transactions. Follow the same process as discussed above to get a 737 Token.
NOTE: You might be asked to select a means of account authentication. You can select fingerprint scanner, PIN, Token, password or any method that best suits for you. Although, you will still be sent a 6-digit phone number on the line that you registered your account for security purposes. When you type the code to your mobile App, it will connect you to your account and you can start doing transactions.
Depending on the device that you are using, you can use the links below to download GT Bank mobile App that is suitable for your device.
Where to Download GTWorld App?
Apple devices – Click here to download
Android devices – Click here to download
For more enquiries, you can contact Gt bank on the following phone numbers GTConnect on 08029002900 or 08039003900.
Also, remember that you can still do your transactions with there *737# code for those that can't access their mobile banking. If this article was helpful to you, drop your comment below