In agriculture, the oil palm business is one of the best and profitable businesses to venture into and make endless profit with either small or large investment capital. If managed well, the palm oil farming business is very lucrative.
This is because we use palm oil in every area of our lives, irrespective of age (old and young), financial status (rich and poor), gender(male and female).
Considering everything mentioned above, you should know that the market for this essential commodity is booming. Therefore, if you decide to go into the palm oil business, you won't regret it since it has a high demand. If by any chance you decide to start a palm oil farming business in Nigeria, you can refer to this article to guide and help you with the necessary information.
Palm oil is the indigenous oil used in Nigeria mainly for cooking; it is also called red oil. It can be thickened if stored in a cool place for a long time. It is flammable (when put on the fire to a boiling point and it comes in contact with fire or water) 
Uses Of Palm Oil
The general use of palm oil in Nigeria is for cooking (frying and preparing stew mostly).
It has medicinal benefits. For instance, palm oil is used to relieve stomach pain, wounds, and other health problems. It contains vitamin A, which is essential for good eyesight.
Palm oil is used to produce water treatment chemicals, canned food such as sardine, dog food production, and other domestic animals.
It is used to preserve raw and cooked food. Fish or meat fried with palm oil seems to last for days without smelling or spoiling.
Palm oil is also used to produce a series of domestic necessities such as soda soap, body cream, and toilet soap.
Steps To Start A Palm-Oil Farming Business 
Steps To Start A Palm-Oil Farming Business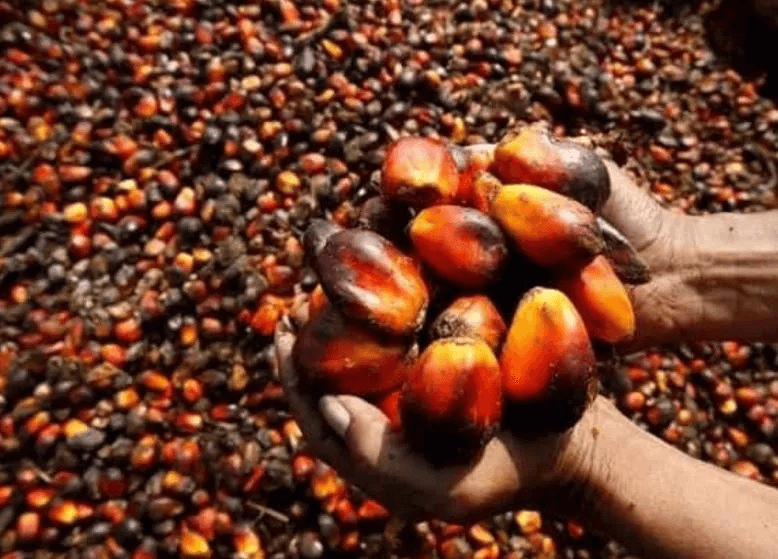 Below are the steps required for setting up a successful oil palm farming business in NIgeria.
Palm Tree Plantation
This is the first and most crucial stage involved in the oil palm business. It requires a substiantial or a large amount of capital. You need to purchase a large expanse of land. In most cases, several acres of land in which the soil is tested to be suitable for palm tree plantation.
The reason for checking the soil quality is that it almost always determines the quality of the palm oil during the harvesting period.
Another thing to consider is the size of the land and its location for easy access to production plants and an easy route to market. Palm oil farming business is not a hit-and-run business. It takes time, work, and patience. You have to be very patient since the incubation period after planting the palm trees can take several years; some even take up to ten years before harvesting.
The good news is that it becomes a regular exercise once the harvesting begins since different palm trees will produce ripe palm oil seeds at different seasons and must be harvested. Also, you will have to decide whether to do the palm oil extraction yourself or sell the parm kernel to people who specialize in the extraction process at a reasonable rate. 
Set Up A Palm-Oil Extraction Mill
If you have decided to extract the oil yourself, setting up a palm oil extraction mill will be the next step. However, this requires a huge amount of capital, both monetary and also in human resources (workforce). 
First of all, you need to begin with installing palm oil milling machines to process the palm oil kernel seeds. Then, you can decide to purchase the machines for personal use, or you can rent out the machine to people who want to process their palm kernel, making it another source of income for you.
This is a great opportunity, especially if you are in an environment where the machine is highly needed, and you happen to be one of the privileged few who have the machine.
Finally, it is important to note that the palm oil farming business is seasonal; all things being equal, you harvest and make more money from palm oil farming between January and mid-June. However, this means you may not make so much money around July to December.
Design A Solid Business Plan
As soon as you decide whether to carry out the palm oil extraction yourself or sell the seed out, you need to draft a solid business plan that will guide your palm oil business from time to time. While designing your business plan, you need to carry out thorough research on the business as a whole; market research, production research, maintenance research, management research, etc.
Study the challenges you are likely to encounter, when it may surface and how to deal with them when it appears. Also, learn about your possible competition, products prices, how and where to buy palm oil and palm kernel at a cheap rate, how and where to sell palm oil and palm kernel at a high rate.
You should incorporate the following information in your business plan; executive summary, market analysis, financial analysis, marketing strategies, and also competitive analysis.
Design A Storage Facility
A storage facility is where you can preserve and keep your palm oil till the appropriate time for sale. This is important because you can not just put the palm oil anywhere after harvest. It may affect its quality, which will affect and reduce your profit when you are about to sell it. Ensure the space is cool, safe, and dry. 
Additionally, you will need to purchase kegs or drums to store your oil since you won't be selling it immediately, and you can't just leave it there inside the mill. Although the most common storage device used by most people is the 25litre yellow keg, people commonly use the 25litres black keg.
Get An Easy Mode Of Transportation
It is one thing to plant, manage and harvest your palm oil products, and it is a whole different thing to figure out how to transport your products to where they are needed. If you don't know the right mode of transportation to use in transporting your goods to the necessary consumer or retailer, you may end up incurring huge costs that will affect your profit.
To avoid the problem mentioned above, compare prices with several commercial transporters, before picking one. Of course, someone who has a personal vehicle won't need to worry about this, but if you don't, the easiest approach is to ask your fellow palm oil farmers to suggest the cheapest, reliable, and safest mode of transportation to you, especially those that have been in the business way before you.
Also, using social media platforms such as Facebook, Twitter, and Instagram and leveraging on SEO, Facebook Ads, and Google Ads will increase the visibility of your business. In other words, your business will reach more people, and you will get new customers, thereby helping you grow your customer base. Additionally, traditional means of adverts such as word of mouth, referrals, partnerships are other important methods of getting customers.
Furthermore, you can also export palm oil to another country since it is used in Nigeria alone, and Nigeria is one of the few countries that produce quality palm oil.
If you are considering exportation and getting customers internationally, one of the trusted Places to find international buyers is Alibaba.com, a website known for connecting suppliers or manufacturers with buyers.
How to get customers for your Palm Oil Business
Put a little oil in a small container like the 100cl bottle; give them samples to palm oil dealers or retailers in the market and nearby village. At this stage, making a profit is not the ultimate goal, but connecting with more customers and taking your business to their front door.
In as much as you sampled quality oil, the palm oil marketers will be the ones to bring other buyers to you. If you give out ten samples to 10 retailers, and each retailer gives you two customers each, that is 20 customers added to your business, and this cycle will keep growing that way.
How to decide how much to sell your palm oil
First of all, the price of oil depends on your location. How easy it is to access you and your business and how good you are at negotiating with your customers. However, do not overcharge or make your products exorbitant because in doing so, you may chase your customers.
Remember, it is a business, and others are waiting to use their strategies to retain buyers, and one of the strategies may involve pricing.
Price in a way that you are satisfied with your profit, and the customer won't feel cheated. This will ensure that they can come back again to do business with you. Remember that repeated customers improve the business more than temporary ones.