The African Financial Technology Company-Kudi has changed its name to Nomba (you can also visit the website at www.Nomba.com) as it transitions into an omnichannel payment platform that provides tools to enable businesses to develop.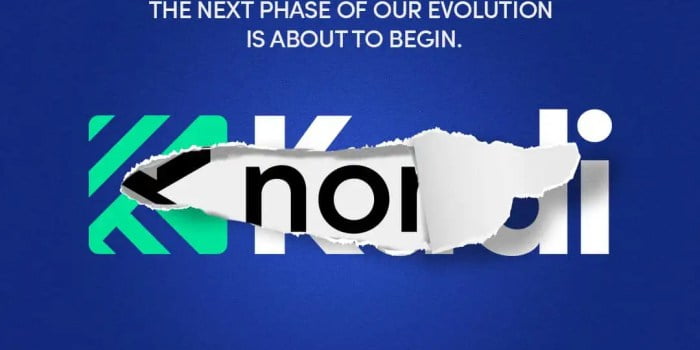 The company was launched in 2017 as a chatbox designed to make payments easier. In 2018, it later developed into a company with a separate point-of-sale (POS) technology, with partnerships among banks as well as other licensed financial institutions.
"Since our launch in 2017, our technology and insight have enabled businesses to build and transform other businesses. Today's complimentary regulatory framework and partnership with financial institutions have helped to boost and create an enabling environment for fintech to chart the future of payments, making access to solutions on payments matters," Yinka Adewale, the Chief Executive Officer, Nomba, said.
Nomba is on a mission to make financial services to be very easy to use as well as to be very affordable. "We are one step closer to bringing a lasting change to Africa and Africa commerce," Adewale said.
The company has extended its series of services to make available easy-to-use business tools for all kinds of businesses to recognize, manage and process payments online and both offline. These tools will be able to provide more businesses opportunity within Africa; it will also provide different access to the digital economy while allowing them to make good use of their operations.
This alternative couldn't have come at a more suitable time. starting from neighborhood kiosks to high-brow restaurants and fashion stores is because the small business sector in Nigeria is in charge of 86 percent of the entire workforce through 41 million micro-businesses and 73,000 small and medium enterprises as indicated by the Small and Medium Enterprises Development Agency of Nigeria (SMEDAN) National Survey.
Right from the payment collection center, to intelligent business reporting, to trade financing and even multiple location management, businesses mainly depend on traditional financial services providers who do not make the ecosystem accessible in order to sustain their businesses. Providing all this on one platform will really make a difference and the making business to be easier.
With Nomba, underserved and full-fledged businesses can self-onboard in five minutes and order a full-service integrated terminal and dashboard which is intended to manage all their payment needs whether in USSD, QR, transfer, card, or cash across multiple locations and channels. more than the next six months, Nomba will expand the access of its POS terminals across the nation, providing more businesses access to technology that delivers real-time error of all business transactions whether they are a one-man business or a corporate business, all together on a single dashboard. It also plans to develop its product aid into payroll, invoicing, management, and other equipment that improve the productivity of businesses.
To make this development more convenient, the fintech has to appoint two key new executives Jeffrey Williams as Vice President, Business, and ToluwaniIjogun as Vice President Brand, Marketing and Communications. Harnessing their experience and expertise, Nomba, will accelerate its expansion across the country ensuring that over 350,000 businesses are equipped with all the tools required to run their businesses seamlessly, by the end of the year.
As VP, of Brand Marketing and Communications, ToluwaniIjogun will be responsible for brand strategy, including all consumer, business-to-business, and partner marketing activities that advance the company's goals. She will also oversee all internal and external communications, insights and marketing capabilities, and analytics for the brand.
Toluwani brings with her over 15 years of experience managing premium brands such as Guaranty Trust Bank; GlaxoSmithKline Consumer Plc; Philips across West Africa; Eat N' Go (owners of Domino's Pizza and Coldstone Creamery franchise in Nigeria); FSDH Group and most recently as Senior Vice President: Brand and Marketing for Kuda Bank where she played a pivotal role in the company's growth in the Nigerian market.
Jeffrey Williams-Edem brought his 18 years of experience into the business which include; sales, business development strategy, digital payment, and merchant acquisition spanning multiple industries. He later joins Nomba as VP, of Business from Interswitch where he played an important role in the design and deployment of their first retail solution strategy for the micro, small and medium enterprise market in Nigeria.
As Kudi rebrands to Nomba, Jeffrey will be in charge of creating and driving the machinery to deliver on, new market development, business acquisition, and revenue. He is also going to be the one to oversee the business operations, sales, and the development of new products.
Over the next five years, we will be leveraging these factors, as well as the experience and expertise Jeff and Tolu bring to deepen the penetration of digital payment solutions across the country, making payments easier for everyone," said YinkaAdewale, Chief Executive Officer, Nomba.