Afriex Money Transfer- Afriex is an international crypto-powered money transfer solutions provider that provides instant, zero-charge transfer service to Africans at home and in the diaspora. The company was founded in 2019 by Tope Alabi and John Obirije.
This article will look at how to sign up, send money to Nigeria, Ghana, Kenya, the US, and Canada for free using Afriex, and other frequently asked questions.
Afriex is a crypto-empowered remittance platform that has risen to the challenge of fixing difficulties associated with off-shore transfers by reducing the time and fees the traditional banking and remittance system offered.
Afriex basically takes a deposit in fiat currency, coverts the money to a stablecoin e.g USDT. Sell the USDT in the local currency of the beneficiary for better rates, and then credits the beneficiary's bank account. Currently, Afriex is only operational in only 5 countries namely Nigeria, Ghana, Kenya, United States, and Canada. Clever, isn't it?
Just like CashApp and Bitsika, Afriex assigns usernames to its users. You can also have your balances in 5 different currencies – Nigerian Naira, United States Dollar, Ghana Cedis, Kenya Shillings, and British Pounds.
Because a margin is earned while converting the stablecoin to beneficiary local currency, the transaction itself is done for free.
Afriex Money Transfer- How to register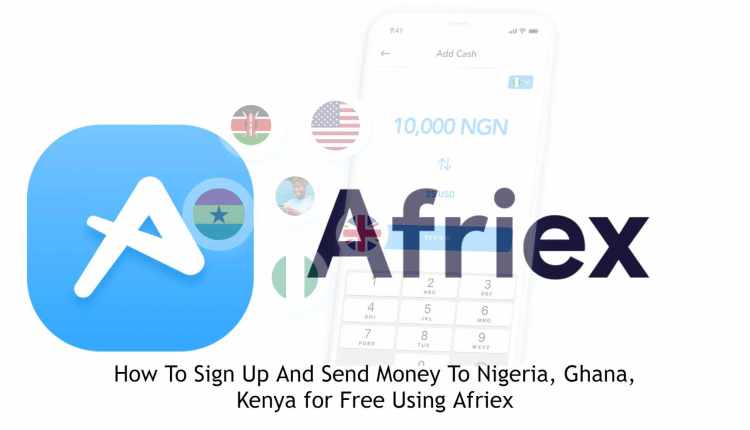 The registration process is probably the simplest I've ever come across. You can even sign up using your Gmail login so that you can start transferring your funds almost immediately.
You can also go the normal route by doing the below:
Download Afriex on Android or your iOS
Launch the app
Choose Create New Account
Create a Username and Password
Enter your phone number
An OTP will be sent to your phone, respond with the OTP to proceed
Confirm.
This ease does not affect the security of the app as Afriex is PCI compliant. They have multi-stage verification for all users. Your login, password, and other transactional data ae are not available for third-party view.
How to Send Money on Afriex
You have several sending options on Afriex, you only have to pick the one which best suits the transaction you really want to do. So, whether you want to send money from the US/Canada to Nigeria, Kenya, Ghana, any other country, or even vice-versa, Afriex can do it for you. Here are the options available to you:
Send to Bank Account
You can send money directly to your beneficiary's local bank account in the supported countries. This is called a direct bank deposit. This usually hits the beneficiary account in minutes.
Here is a step-by-step guide on how to send a direct bank deposit through Afriex. Your beneficiary does not need to have an Afriex account:
Select Transfer
Choose the source balance to be debited
Enter the amount
Choose Send to Bank
Enter beneficiary's bank name
Enter beneficiary's bank account
Click Continue
Review the details of the transfer and Proceed
Send to User
You can also send Afriex to other users on Afriex in Nigeria or any other country. This process is also extremely simple.
Here is what you have to do to send money to another Afriex user:
Select Transfer
Choose Send to Users
Enter the amount
Search by username (you can also pick from your contacts list)
Select the correct beneficiary/enter your beneficiary's username manually e.g $sandra
Click continue
Click Transfer