QuickCheck is a popular loan platform in Nigeria that provides loans to Nigerians without requiring collateral. QuickCheck loans are disbursed via a mobile app that users can download, install, and use to apply for a loan. Many Nigerians use the loan app, and it has received a lot of positive feedback.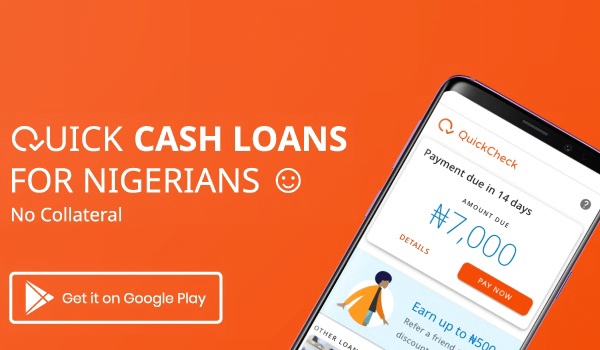 The process of getting a loan on QuickCheck is very easy as well as it is seamless. You can also have access to your credit any time of the day. The security of your information is also assured because QuickCheck platform is PCIDSS compliant. .
This article will provide necessary information on how to request/apply for a QuickCheck loan, interest rates, requirements, and so on.
QuickCheck loan App requirement
These are things that you must possess to meet the minimum requirements for QuickCheck. Here they are below:
Bank Verification Number (BVN)
Average to good credit score
A standard bank account in any Nigerian bank
Employment details (self employed, salary earner, etc)
Personal biodata (such as your name, address and so on)
A debit card
Must be 18+ and below 60
A smartphone.
How to Request/Apply for A Quick Check Loan
The process of requesting or applying on QuickCheck. Just be patient enough to follow through with all the prompts and steps. The entire process should not take more than 30 minutes if you have everything ready yourself. Here is a step-by-step guide to request for a QuickCheck loan below:
Download the QuickCheck Loan App
At the moment, only Android users can use the QuickCheck application. The developers of QuickCheck have made several commitments to make sure that the app is made available for iPhone users in the future.
Click HERE to download the QuickCheck loan.
Register your Biodata/personal information
Once the application is downloaded and successfully installed on your device/phone, you can start to enter your biodata and all other requested information into the application. During this process, you will be requested to turn on your location.
Once you have signed up and completed your profile you can apply for loan. It is very easy! You will see the option to apply for loan right there in the app.
Once you have applied, be patience and wait for loan decision from QuickCheck. It should not take long. There are a lot of things that they take into consideration before making a decision. One of them is your credit score.
If your application is successful, you will receive loan! Remember to pay back your loan before due date expires.
How much can you borrow?
You can borrow from ₦1,500 to ₦500, 000.  But at your first attempt, you will be unable to borrow big figure. You borrow small then as you pay back you get a bigger offer next time.
QuickCheck loan interest rate
QuickCheck loan has interest rates starting from as low as 5% monthly on the first loan. Generally, interest ranges from 2% – 30%, with an equivalent monthly interest rate of 1 – 21%.
Reasons Why Your QuickCheck Loan Might Be Rejected
There are 3 reasons why your QuickCheck loan request may not be approved. Apart from these reasons, there is hardly any other why you won't get your requested loan from QuickCheck.
Below are the 3 reasons why your QuickCheck loan might be rejected.
1. You are applying for a loan of more than NGN 10,000 as a first time user of QuickCheck.
Simply put, you may not be able to apply for a loan that is more than 10,000 Naira as a first time user.
You will only gain access to higher loan amounts with consistency and your ability to pay back loans within the set deadlines.
2. You fail to meet up with the requirements to get a loan from QuickCheck or you did not provide enough information to get a loan
3. You have a bad credit score, with previous borrowing records showing you have not been faithful with meeting up with deadlines of other loan transactions you have had.
Frequently Asked Questions
What is my minimum/maximum loan request limit?
₦1,500 ₦500,000
What is my minimum/maximum tenor on QuickCheck?
1 month 1 year
What is the interest rate on QuickCheck loan?
5% on a first time basis. Generally, the interest rates on a QuickCheck loan ranges from 2% – 30% per annum.
How do I repay a QuickCheck loan?
There are 3 ways:
While registering, you'd have been required to enter your debit card details the one belonging to the bank account you submitted. Repayments and installments into your QuickCheck wallet will be deducted from the account via your debit card.
Besides, you can use your bank's USSD code too.
You can also payback via Bank Transfer or Cash deposit.
Does QuickCheck Have A Physical Address?
You can pay a visit to their head office located at 23, Agodogba Avenue, park view Estate, Ikoyi, Lagos, Nigeria. You can also shoot them an email on [email protected]